"Travelling with a brush".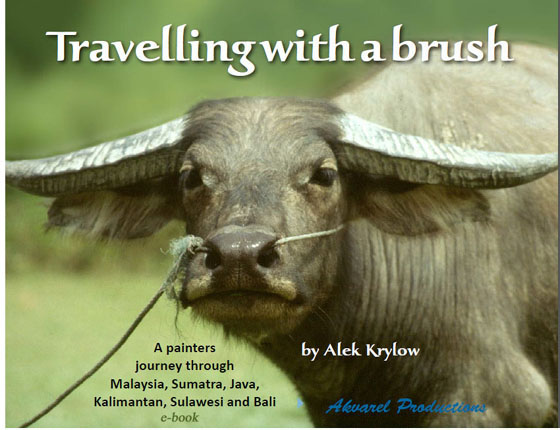 Min ny e-bog er lige udkommet. Bogen beskriver min malerejse til Malaysia og Indonesien.

For nogle år siden, rejste jeg igennem Malaysia og Indonesien "med Penslen i Rygsækken". Formålet med rejsen var at tegne, male og opleve.
Det blev gennemført med gode resultater - jeg kom hjem med ca. 200 tegninger i min skitsebog, 20 akvareller, 10 portrætter af mennesker jeg mødte på vejen og 1300 lysbilleder.
Lysbillederne blev til en foredrag "Med penslen i Rygsækken" som jeg holdt utallige gange på højskoler og rundt om i Danmark.
Har man deltaget i et af mine foredrag, har man kun oplevet en lille del af historien - det er begrænset, hvad man kan fortælle på to timer!
Nu kan man læse om ´kidnapning´, tilbageholdelse hos politiet, betaling for forskellige ophold med billeder, og hvad man gør, når man mister sit Dankort på Sulawesi!
Det er bare nogle få af de mange begivenheder jeg oplevet og beskriver i bogen.
Nu er billeder, tegninger og akvareller blevet til en e-bog. Under rejsen skrev jeg dagbog og den har jeg brugt som tekst til e-bogen.
Bogen er rigt illustreret med mine egne tegninger, akvareller og fotografier. Klikker man på nogle af billederne, bliver de forstørret og andre viser en billedserie.
Der er også lydoptagelser om en meget morsom lokal skik!

Bogen er skrevet på engelsk. Den skal ud til så mange mennesker som muligt og ikke kun i Danmark. Bogen er på 114 sider og har 174 illustrationer.

Her kan du se nogle illustrationer fra bogen.




Køb bogen her.
If you wish to buy the book - the book costs 10 Euros - 75 DDK.
Remember to write the tilte of the book you want!

To pay - Go to Paypals homepage and open an account.
Then you transfer 12 Euro to my mail address.
As soon as I have confirmation that the payment is made,
I will email you the book.



Review of the e-book "Travelling with a brush" written by the artist Alek Krylow. Everyone who has a slightest bit of globetrotting in their blood, will enjoy reading this e-book.
Alek Krylow takes us on a 3 month long painting journey to south East Asia:
Malaysia, Sumatra, Java, Kalimantan, Sulawesi and Bali.
The book is written in a cheerful and easy-to-read English and is richly illustrated
with numerous excellent photos, drawings and watercolours from the trip.
We are presented for a back-packers many experiences, both good and bad.
We read about the many fine contacts that are established, when Alek sits down to draw and paint his surroundings.
We meet, for example, a shady card player in Kuala Lumpur, Toraja people on Sulawesi and "The Dali of Bali".
All in all a really exciting account, with lots of humour and vivid descriptions based on the notes made in his dairy.

Esther Larsen.
Correspondent and artist.

Tak for besøget.